UPDATE: I have given TEP Wireless another try, and it worked just fine for me the second time around. Please see my new post here. I am leaving my original post intact, though, as it is an accurate telling of my previous experience.
I'm not sure how long this post will be, but I'll just start writing about the whole experience. My apologies in advance if it turns into a bit of a rant, but case it does, let me give you the conclusion up front. DO NOT RENT A WIRELESS HOTSPOT FROM TEP WIRELESS! With that out of the way, let's continue.
My wife and I were going to Mexico for a week, spending time with her side of the family at a timeshare on the Mayan Riviera for a full week. We're both a bit nerdy, and we both need to be always connected to the internet. Rather than paying an exorbitant amount of money for a weekly connection at the resort, which would likely only work for a single device, we decided to try out a wireless hotspot. My instinct was to go with XCOM Global, as I had a great experience using my coworker's XCOM Global device while I was in Sao Paulo in July last year. However, I read a couple reviews about a new company, TEP Wireless, and I decided to give them a go.
The way these things work is quite simple. You pay a fee up front. Then a company sends you a wireless hotspot, something like a MiFi, and depending on how much you paid up front, that device will give you internet access in a variety of countries for a specific span of time. For us, we pre-paid for unlimited usage in Mexico for approximately one week. At the end of the term, you send the device back, and you go on your merry way. The benefit is that you can connect up to five devices to one of the wireless hotspots, and you completely avoid ever having to pay for international data either at a hotel or roaming with your phone.
We were set to leave for Mexico on a Sunday, and as expected, the TEP Wireless device arrived at our door the Friday beforehand. The device comes in a nice carrying case, and everything you need is inside the case.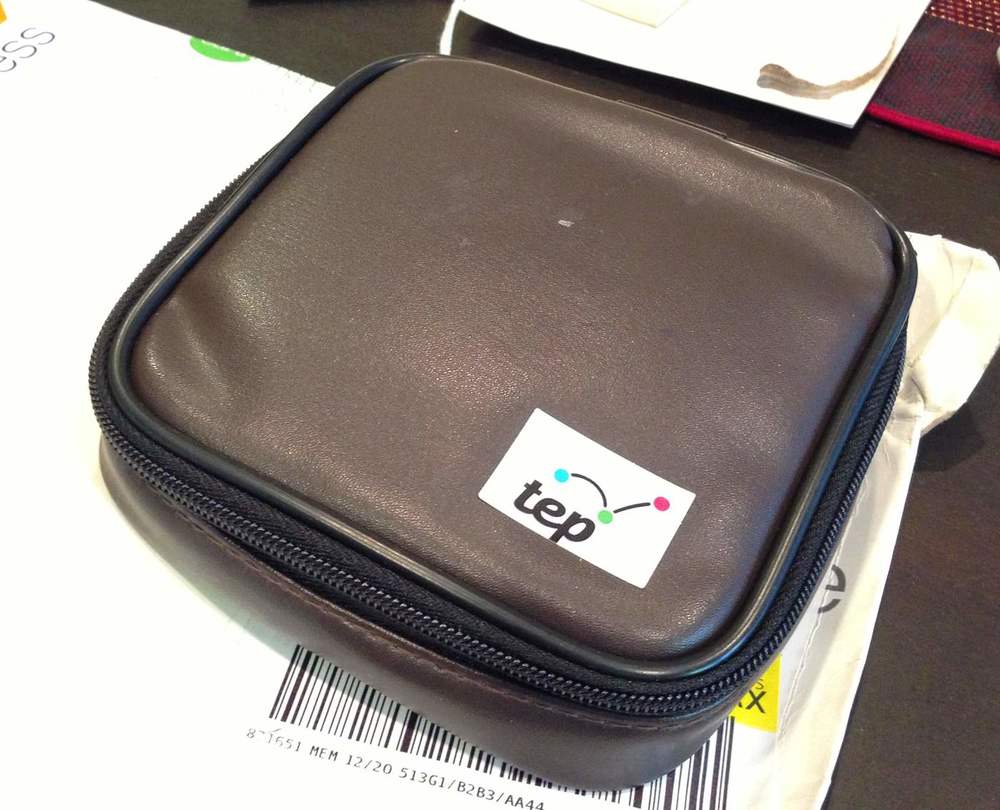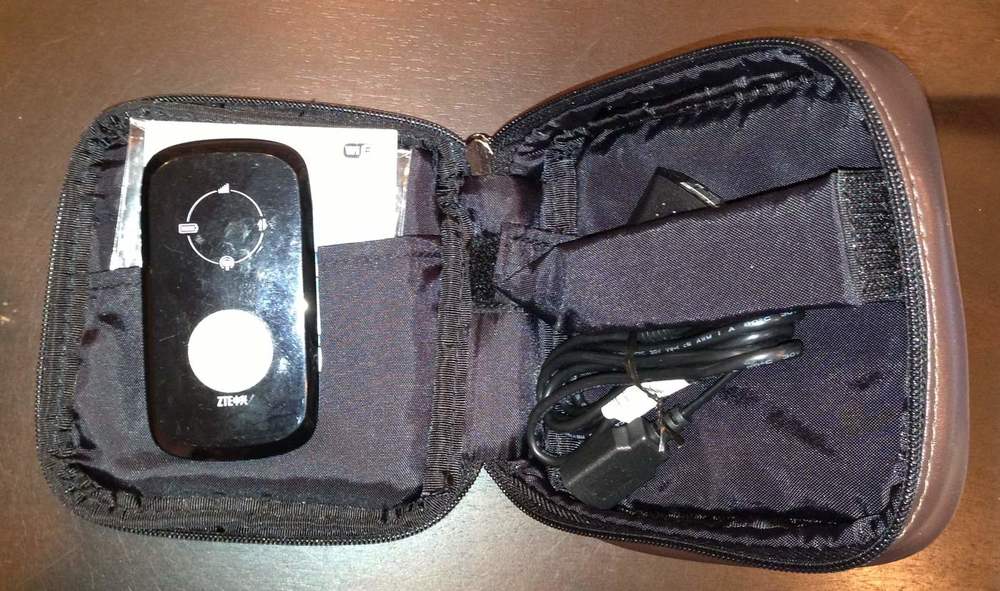 The first thing I noticed was that the device wasn't the same device I was expecting. One of the reasons I went with TEP Wireless over some of their competitors is that they, theoretically, offer a more modern device. Let's take a look at the review by Engadget. The image is pasted below for comparison.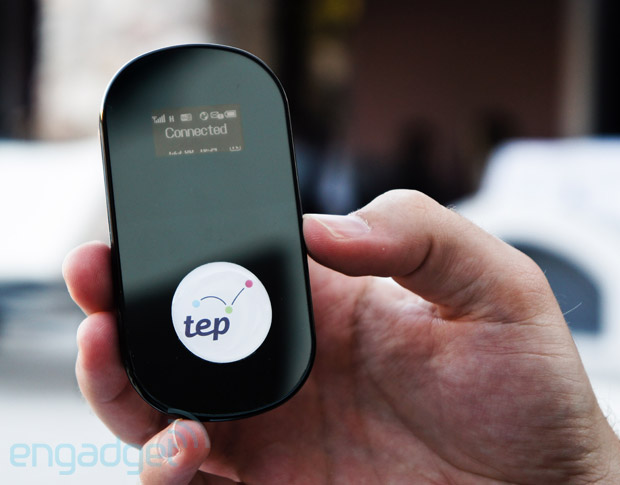 That was disappointing. Oh well. I figured that as long as the wireless service worked, there was no reason to complain. However, when I unpacked everything out on my bed, I noticed something else…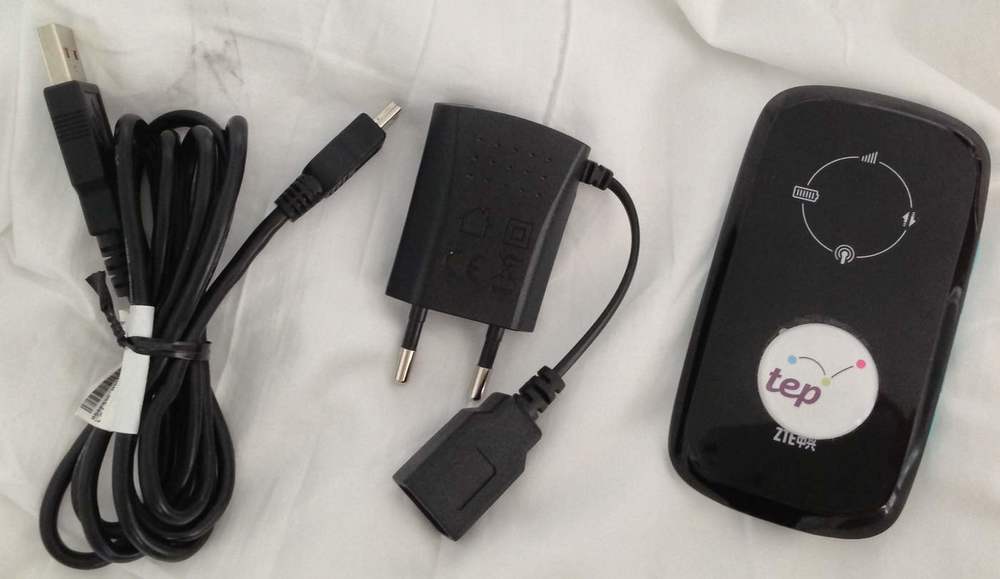 Take a look at the power adaptor they sent me… do those plugs look like they will fit into a USA electrical socket? How about a Mexican electrical socket? Mexico and USA use the same 120V plug sizes. So not only did they not send me the device I was expecting, but now I had no way to plug it into a wall. Are you kidding me? I still figured to myself, "Okay fine… as long as the wireless service works, it doesn't matter. I can charge it via USB from my laptop." I packed up the device, and I looked forward to using it in Mexico.
Fast forward a couple days. We land in Mexico.
I power on the device, and all the LEDs slowly light up. I connected to the Wi-Fi hotspot it created, but I wan't getting any sort of internet connection. I got frustrated, and I turned it off. I took a picture of what the device looked like, and I sent the picture and a note to TEP Wireless. For frame of reference, this note was sent on 3:52PM on 12/23/2012.
My note said the following:
Hi there. I am in cancun Mexico and my TEP unit does not appear to be

working. All of the LED lights are lit up properly, but the blue light

flashes, rather than staying lit solid. Also, the instruction manual

in the case is not for the device I have in my hand. I can connect to

the wireless network, but I get no Internet access when connected.

Please advise. Thanks! This is urgent!!!!
I was confused. From the LEDs on the device, it appeared to be working just fine. I immediately received back the automatically generated e-mail from their support e-mail alias, saying that they would respond as soon as possible. Heck. I'll just paste it below. By the end of this tale, I had received it so many darn times it's worth putting it here.
Thank you for contacting us. We have received your request and are working on responding to you as soon as possible. If you have any additional information to add to this case, please reply to this email.
Thanks in advance for your patience and support.
In the meantime you might find one of the following options helpful.
• Help section on www.tepwireless.com
• Live website chat, Mon-Sun from 9:00 (GMT) to 19:00 (GMT)
• Support lines US +1 877 888 3741 and UK +44 (0) 203 514 9820, Mon-Sun from 9:00 (GMT) to 19:00 (GMT)
• Twitter: www.twitter.com/tepwireless
• Skype: tepsupport
Tep Customer Support
I tried to investigate the issue on my own. I checked the IP address that I was assigned by the wireless device, and I determined that the router page was likely at 192.168.0.1. I navigated to that page on my phone, and sure enough, I got the router homepage. Here is a screenshot of what that looks like.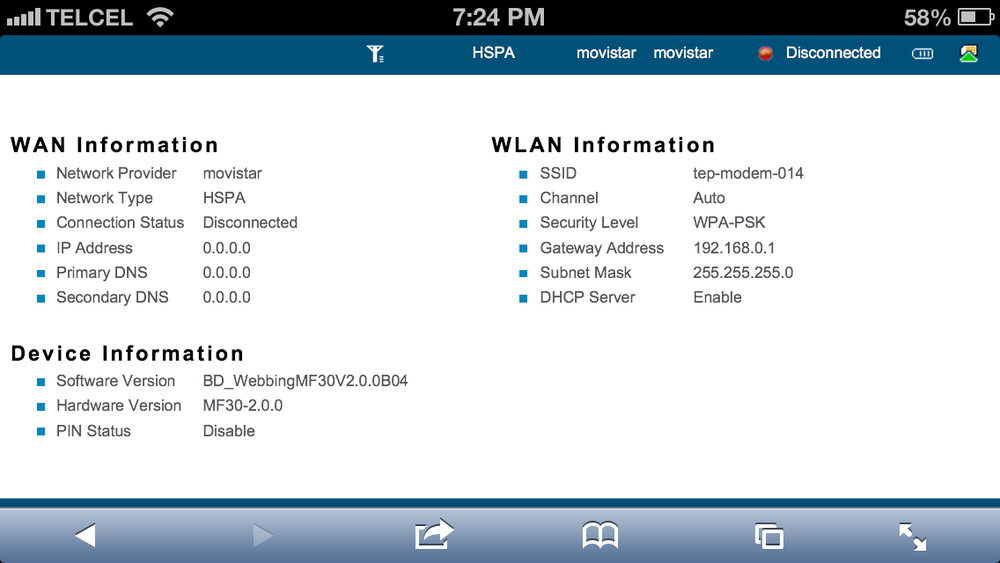 Now in the screenshot above, you'll see that there is only one bar of cellular service depicted. However, depending on where I was, this was usually full of bars. However, it always said "Disconnected," even if there was a fully HSPA connection. I sent this screenshot to TEP about twenty minutes after sending them the first e-mail, hoping this might help them diagnose the problem. When I got to the resort, I turned on data roaming on my phone and called their support phone number. It went to voicemail, and I left a message. I heard back nothing. 24 hours passed, and I still heard nothing back from them. At this point, I figured that I might as well just buy the hotel internet. I sent another e-mail:
Wow – I can't believe how bad your support is. I still have never heard back! I expect a full refund as well as a pre-paid shipping label to get this back to you!
So while my first few e-mails never got responded to, apparently this one did. Tep finally responded. They wrote the following:
Dear Kevin,
Please note that we have escalted this issue to the Mexican network provider and am awaiting there response we shall update you as soon as we have feedback from them.
Best Regards
Hank

Tep Support
Well… it was nice to hear at least something back, I suppose. At this point I had already not received a portion of the internet access I had paid for. You might think that at this point, I would have heard something back from TEP. Wrong. I had to send another note on 12/27/2012, 48 hours after they sent me the above note. My e-mail said the following:
Dear Hank,

It has been approximately 48 hours since you said you have escalated the issue. I heard no response. This support is awful. Please issue me a full refund. I have never been able to use this device, as I'm sure you'll be able to see from the usage.

Furthermore, I live in the USA, and I am traveling in Mexico. Why would TEP Wireless send me a European power adaptor? On top of that, the manual included with the device is not for the same device that I was given.

Please let me know when my refund will be issued.

-Kevin Hanson
Did Hank respond right away? No he didn't… He must have been busy. I left them more voicemails, and I even sent them a few skype messages, as seen below.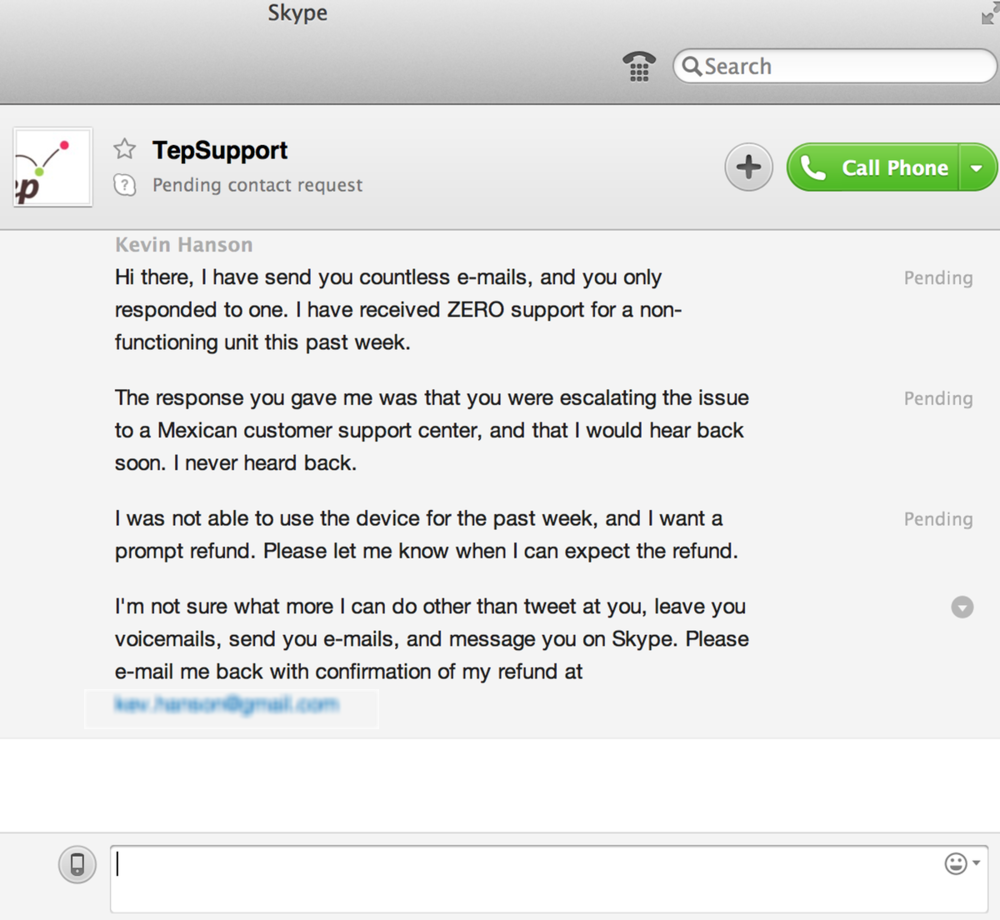 I was getting really annoyed. By the time I had sent these messages, I wasn't even in Mexico anymore. I just wanted my darn pre-paid label to ship them the unit back, and I wanted my refund. I went on their website, and the little chat box in the bottom right popped open. Surprisingly, it said they were there and available. I started chatting with the person, asking if they could check on the status of my refund.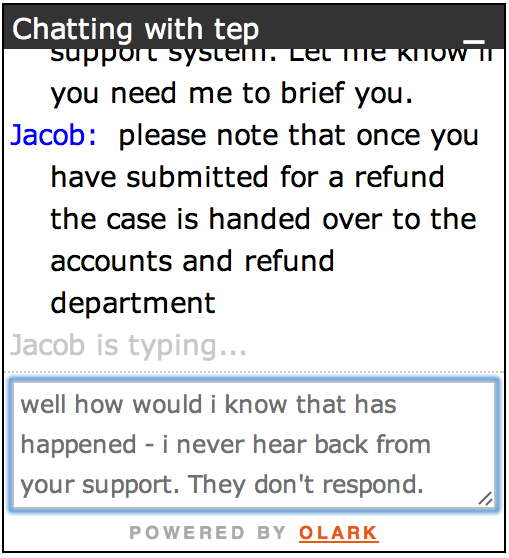 Jacob was not very helpful in helping me get any sort of resolution, but I do think that he did some investigation afterwards, and perhaps he even spoke to Hank. I did ask Jacob for the name of a manager, and I he gave me the e-mail address of Dennis Jorgensen. Googling his name showed me that he was the co-founder of TEP Wireless. I figured I would send him an e-mail later that night. Meanwhile, it had been two days since I e-mailed Hank at TEP Support, but I got an e-mail from him right after I finished my online chat with Jacob. Here is the e-mail:
Dear Kevin,
We do apoligise for the inconvenience caused by the connection and service issues that you faced whilst in Mexico, and the failure to provide you with the correct country power adapter,we do regret the bad experience you have encountered and have handed your case over to the accounts and refund department to follow up with you.
I have also asked for the USA pre paid return label to be sent to you and the returns department shall issue you with that via email as soon as is possible.
Best Regards
Hank

Tep Support
I didn't get a pre-paid label later that day, if that's what you think happened. Instead, i wrote an e-mail to Dennis. Here is the full text of that e-mail.
Dear Dennis,

I am writing to ask you to issue a refund of my TEP Wireless order. I was given your e-mail address by Jacob, who works in support. I understand that you're a manager at TEP. I hope this e-mail helps you focus on some of the problems of the company, specifically around quality control and support.

1) When I ordered my TEP Wireless unit, I didn't receive an order confirmation. I had to e-mail support, and then they sent me my order confirmation.

2) I received my TEP Wireless unit on time, but when I opened it up, I was surprised to find that the device included did not match the device in the manual. Specifically, there were more LED indicators on the device in the manual than there were on my actual device. Furthermore, I was given a UK power adaptor. Why would I have been given a UK power adaptor when I am an American, traveling in Mexico?

3) When I arrived in Mexico, I powered on the TEP Wireless device, and I was able to connect to it with my phone. However, I got no internet service. I called the phone number on the TEP Wireless site many times, and I e-mailed support, but I never heard back.

4) Despite not hearing back from support, I decided to investigate on my own, and I navigated to 192.168.0.1 on my device to look at the router settings. It said that my HSDPA connection was "disconnected."

5) I e-mailed the support department of TEP Wireless screenshots of my findings, but I still heard nothing back in response.

6) Finally, after a few days, I heard back from Hank in support. Hank told me that my issue had been escalated to a Mexican network provider, and that I would hear back. I NEVER heard back.

7) I eventually gave up, and I purchased internet access at the hotel I was staying at in Mexico.

8) I sent support many e-mails, I left skype voicemails, and I left voicemails with the support phone number. I heard nothing back, until I was able to use the online chat on the website. Here, Jacob answered me, and he gave me your e-mail address and told me he would look into my issue.

9) Now that I'm ready to send my unit back, there is no address anywhere for me to send it back to.

Dennis, this has been a failure of TEP Wireless on many fronts. First, I was not sent what I was expected (the wrong wireless unit + incorrect power adaptor). Second, the adaptor never worked. Third, when I encountered issues, the support staff at TEP did not respond promptly at all. Please promptly issue my refund. I look forward to your response.

Sincerely,

Kevin Hanson
Dennis took a couple days to respond, just like his support department, and then he wrote back the following:
Just a quick note to let you know I've received your email, and will be following up once I've completed an internal investigation of this situation. Clearly there has been a failure on many fronts, begging the need for proper scrutiny.

I appreciate your patience, and wish you a pleasant evening.

Best regards,

Dennis
It was nice to hear from Dennis, but I never heard back from him after that e-mail. I've sent both he and his support team e-mails over the past week or so, and I haven't gotten anything. Yesterday, on January 8, 2013, I finally received my pre-paid return label. Great. They can get their equipment back. As for my refund, I still haven't heard anything. I'll likely have to take this up as a dispute with my credit card company, and I'm not sure how that will go. I could keep the equipment, and I could tell TEP I won't send it back until they give me my refund, but I don't see the point in that. It's not mine.
That being said, I can take 30 minutes out of my day and write a blog post about their service. Let me just give you a re-cap:
They didn't send me the same device that all of the reviewers got.
They sent me the wrong power adaptor.
The service never worked.
Their support is probably the worst I have ever used.
Their co-founder is flaky with his e-mail responses as well.
If they mess up, they won't admit it and issue a full refund.
If you search the internet for a review of TEP Wireless, you'll read nothing but god things. Check out the review from Engadget and the review from PCMag.com. I'm sure TEP made extra sure that the press had a great experience, as they should, but know that you won't get the same experience as a regular customer. Even if you do get a working device, if you ever need to use their support, GOOD LUCK! All in all, this experience with TEP Wireless was completely awful. I'll never use the company again, and I'm still working hard to get my money back.